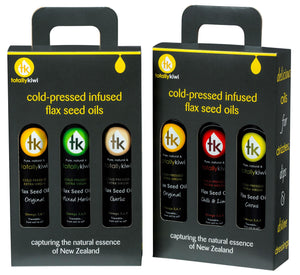 Totally Kiwi Certified Organic 3-pack
Try this 250ml trio pack of our fresh and tasty infusions of your choosing.

By bundling up in one of our gift packs, you also save 20% off the normal retail price of purchasing single bottles.
You can select any 3 bottles of any of our flavour infusions. You can even select three of the same flavour if you have a favourite!!
Delicious oils for dips, drizzles and divine dressings.
Ideal for Summer days, drizzled over fish and meat, or use to make a delicious salad dressing.
Be creative, add some flavour to your favourite meals!
An ideal gift for someone special, or a little treat for you and your family.


Nutritional Information
Ingredients: 100% Certified Organic Flax Seed Oil infused with Essential Oils in your Flavour choice
Servings per Bottle: 16.6 (250ml)
Average Quantity
Serving Size: 15ml/1 Tablespoon/14g
Per Serving*
Per 100g*
Energy
512.4 kJ
3660 kJ
Protein
0 g
0 g
Fat, Total
13.95 g
100g
 - Saturated
1.2 g
8.6 g
 - Polyunsaturated
10.5 g
75.2 g
   - Linoleic Acid (Omega 6)
2.0 g
14.6 g
   - Linolenic Acid (Omega 3)
8.5 g
60.6 g
 - Monounsaturated
2.2 g
15.9 g
   - Oleic Acid (Omega 9)
2.2 g
15.9 g
Carbohydrate
0 g
0 g
 - Sugars
0 g
0 g
Sodium
0 mg
<5 mg
* All Specified Values are averages and subject to natural variation.
Lovely oil, l particularly like the citrus infused and cumin Infused.