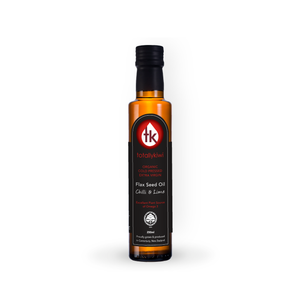 Combining a creative blend of cooling citrus and spicy chilli heat, the Chilli & Lime infusion delivers a taste sensation.
Smoked, spicy Chipotle Chilli is perfectly balanced with the fresh flavours and tartness of Key Lime, then gently infused into our Flax Seed Oil. Add a 'kick' to your favourite meal!
Be inspired....
Drizzle over cooked meat or seafood
Pour over vegetables and salads
Use in dressings & vinaigrettes
Spice up a salsa, mayonnaise or dip
Toss through pasta or stir fries
Use as a dipping oil for breads
Nutritional Information
Ingredients: 100% Certified Organic Flax Seed Oil infused with Chilli & Lime Essential Oils
Servings per Bottle: 16.6
Average Quantity
Serving Size: 15ml/1 Tablespoon/14g
Per Serving*
Per 100g*
Energy
512.4 kJ
3660 kJ
Protein
0 g
0 g
Fat, Total
13.95 g
100g
 - Saturated
1.2 g
8.6 g
 - Polyunsaturated
10.5 g
75.2 g
   - Linoleic Acid (Omega 6)
2.0 g
14.6 g
   - Linolenic Acid (Omega 3)
8.5 g
60.6 g
 - Monounsaturated
2.2 g
15.9 g
   - Oleic Acid (Omega 9)
2.2 g
15.9 g
Carbohydrate
0 g
0 g
 - Sugars
0 g
0 g
Sodium
0 mg
<5 mg
* All Specified Values are averages and subject to natural variation.