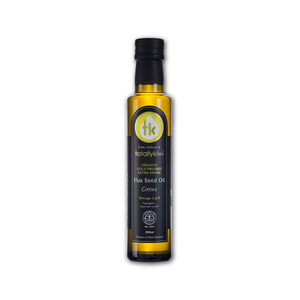 The most delicate of our infusions, Certified Organic Flax Seed Oil Citrus has an amazing citrus flavour and aroma.
Zesty and refreshing, the combination of Lemon and Key Lime oils make this the perfect match for seafood, chicken, salads and vegetables.
Be inspired
Drizzle over cooked meat or sizzling prawns
Liven up green salad or roast vegetables
Drizzle over risotto or seafood pasta
Add to fruit smoothies or yoghurt
Use in mayonnaise, dressings and dips
Use as a dipping oil for breads
Nutritional Information
Ingredients: 100% Certified Organic Flax Seed Oil infused with Citrus Essential Oils
Servings per Bottle: 16.6
Average Quantity
Serving Size: 15ml/1 Tablespoon/14g
Per Serving*
Per 100g*
Energy
512.4 kJ
3660 kJ
Protein
0 g
0 g
Fat, Total
13.95 g
100g
 - Saturated
1.2 g
8.6 g
 - Polyunsaturated
10.5 g
75.2 g
   - Linoleic Acid (Omega 6)
2.0 g
14.6 g
   - Linolenic Acid (Omega 3)
8.5 g
60.6 g
 - Monounsaturated
2.2 g
15.9 g
   - Oleic Acid (Omega 9)
2.2 g
15.9 g
Carbohydrate
0 g
0 g
 - Sugars
0 g
0 g
Sodium
0 mg
<5 mg
* All Specified Values are averages and subject to natural variation.