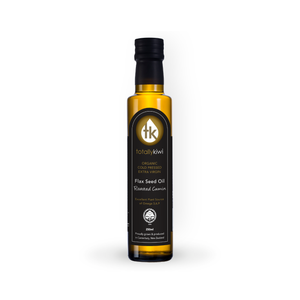 Cumin, with just a hint of Coriander is the perfect infusion for hummus, curries and all Eastern European and Indian dishes.
With warm and nutty flavours, Certified Organic Flax Seed Oil Cumin promises to add dimension and depth to your favourite dish.
Be inspired....
Drizzle over vegetables, rice and couscous
Liven up hummus
Stir through curries and soups
Add another dimension to mashed potatoes
Spice up your Eastern European and Indian dishes
Use as a dipping oil for breads or drizzle over your naan
 
Nutritional Information
Ingredients: 100% Certified Organic Flax Seed Oil infused with Roasted Cumin Essential Oil
Servings per Bottle: 16.6
Average Quantity
Serving Size: 15ml/1 Tablespoon/14g
Per Serving*
Per 100g*
Energy
512.4 kJ
3660 kJ
Protein
0 g
0 g
Fat, Total
13.95 g
100g
 - Saturated
1.2 g
8.6 g
 - Polyunsaturated
10.5 g
75.2 g
   - Linoleic Acid (Omega 6)
2.0 g
14.6 g
   - Linolenic Acid (Omega 3)
8.5 g
60.6 g
 - Monounsaturated
2.2 g
15.9 g
   - Oleic Acid (Omega 9)
2.2 g
15.9 g
Carbohydrate
0 g
0 g
 - Sugars
0 g
0 g
Sodium
0 mg
<5 mg
* All Specified Values are averages and subject to natural variation.
Fabulous
This oil is delicious in smashed avocado, on toast with sliced camembert on top, yum.