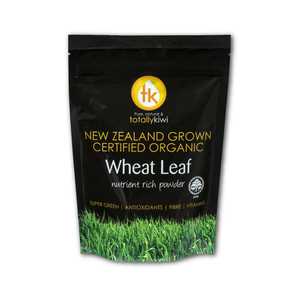 Our fully traceable Certified Organic Wheat Leaf Powder is sourced from the young shoots of the Wheat Grass plant.
This rich, green, highly nutritious powder is packed full of antioxidants, vitamins, minerals, fibre and amino acids.
Wheat Leaf Powder is an ideal energy booster to help you begin your day. It can also assist with a healthy digestive system and supports overall health and wellbeing. Mix with cold water or fruit juice, or blend into your favourite smoothie.
This supergreen powder is:
* A powerful detoxifying powder & ideal energy booster

* Rich in B Vitamins & Antioxidants

* One of the best sources of Chlorophyll - known to promote blood cell health & slow the ageing process

* Helps to neutralise toxins and purify the liver
* Rich in Protein, amino acids and minerals

Nutritional Information
Ingredients: 100% NZ Grown Certified Organic Wheat Leaf (triticum aestivum) Powder
Servings per Packet: 100


Average Quantity
Serving Size: 1tsp/2g
Per Serving
Per 100g
Energy
21 kJ
1050 kJ
Protein
0.6 g
28.0 g
Fat, Total
0.1 g
5.5 g
 - Saturated
<0.1 g
0.5 g
Carbohydrate
<0.1 g
4.9 g
 - Sugar
<0.1 g
4.6 g
Dietary Fibre
0.7 g
34.0 g
Sodium
6 mg
310 mg