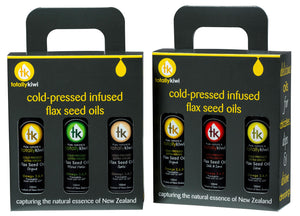 Try this 100ml trio pack of our fresh and tasty infusions of your choosing. By bundling up in one of our gift packs, you also save 5% off the normal retail price of purchasing single bottles.

You can select any 3 bottles of any of our flavour infusions. You can even select three of the same flavour if you have a favourite!!
Delicious oils for dips, drizzles and divine dressings.
Ideal for Summer days, drizzled over fish and meat, or use to make a delicious salad dressing.
Be creative, add some flavour to your favourite meals!
An ideal gift for someone special, or a little treat for you and your family.


Nutritional Information
Ingredients: 100% Flax Seed Oil infused with Essential Oils if Flavoured Oils are chosen
Servings per Bottle: 6.6 (100ml)
Average Quantity
Serving Size: 15ml/1 Tablespoon/14g
Per Serving*
Per 100g*
Energy
512.4 kJ
3660 kJ
Protein
0 g
0 g
Fat, Total
13.95 g
100g
 - Saturated
1.2 g
8.6 g
 - Polyunsaturated
10.5 g
75.2 g
   - Linoleic Acid (Omega 6)
2.0 g
14.6 g
   - Linolenic Acid (Omega 3)
8.5 g
60.6 g
 - Monounsaturated
2.2 g
15.9 g
   - Oleic Acid (Omega 9)
2.2 g
15.9 g
Carbohydrate
0 g
0 g
 - Sugars
0 g
0 g
Sodium
0 mg
<5 mg
* All Specified Values are averages and subject to natural variation.
Great gift idea
Fab way to try the flavours you're interested in.
Gift Packs
Great for Christmas presents and being able to select flavours.
Gift packs
nicely presented and great to select your own flavours. I'm giving these as gifts for Xmas as I love their flavoured oils which are all I use on my salads. Highly recommended.